News Items
IJHG June 2015 edition available online
The following articles are now available on the International Journal of Health Geographics (IJHG) website. These can be accessed for free and include articles published in the Journal from 27 May to 17 June 2015.
Research
The mortality rates and the space-time patterns of John Snow's cholera epidemic map. Shiode N, Shiode S, Rod-Thatcher E, Rana S and Vinten-Johansen P.
Human African trypanosomiasis in the Democratic Republic of the Congo: disease distribution and risk. Lumbala C, Simarro PP, Cecchi G, Paone M, Franco JR, Kande Betu Ku Mesu V, Makabuza J, Diarra A, et al.
Review
The geography of maternal and newborn health: the state of the art. Ebener S, Guerra-Arias M, Campbell J, Tatem AJ, Moran AC, Amoako Johnson F, Fogstad H, Stenberg K, et al.
Date
June 25, 2015
2015 European Satellite Navigation Competition (ESNC)
Deadline: Tuesday (23.00), 30 June 2015.
There is still time to enter the 2015 European Satellite Navigation Competition (ESNC) that offers investment and business support for new ideas that use satellite positioning, navigation and timing technology.
It takes just a couple of hours to complete the application form with the chance to win a £5,000 cash prize and business support to launch your idea. The winner of the UK leg is also entered into the European Grand Prize with the chance to win around £14,500 (€20,000).
For help and advice on the application process, please contact the UK ESNC competition team at ukesnc at sa.catapult.org.uk or call 01235 239637, or visit the ESNC website.
Date
June 25, 2015
Marine Data Specialist post at the JNCC
Background of the post at the Joint Nature Conservation Committee (JNCC)
Access to good evidence to underpin biodiversity and nature conservation advice has become increasingly important as the demands and pressures on the environment rise. Evidence activities relating to biodiversity and nature conservation, such as data collection, dissemination, analysis, and reporting, are all critical elements of JNCC's core functions.

Post Duties
The post holder will work with other members of the Marine Evidence Team and the Data Services Team to deliver robust evidence to support JNCC's conservation advice. The work of the Marine Evidence Team is cross-cutting and the post holder will act as a key liaison between this Team and others within JNCC with regards to marine data.
The Marine Data Specialist will undertake a range of duties such as (but not limited to):
Overall responsibility for identifying issues with marine data holdings, both existing as well as new data being received by JNCC (particularly offshore seabed survey data); and creating novel and efficient solutions to any issues identified.
Transforming marine data that JNCC holds, including the establishment of efficient processing chains (e.g. within FME, R), and ensuring data are placed in suitable repositories.
Ensuring marine data holdings are adequately described and the data stored in standard/agreed formats.
Providing support and advice to staff on marine data management and manipulation, including maximising the use of technical skills and knowledge across the organisation.
Maintaining a good overview of JNCC's marine data holdings including how these can be applied to JNCCs work, and provide advice to internal and external customers on their use.
Enabling the external publication of the marine data holdings including archival within the MEDIN Data Archiving
Centres as required. This will also include coordinating the delivery of seabed evidence report publications.
Commissioning and managing contracts under the Marine Evidence Programme as and when required.
The majority of the work will be office-based; however, the post-holder will also be required to attend meetings and workshops in UK and possibly Europe, which is likely to involve staying away from home on occasion overnight or for up to a week's duration. There may also be opportunities to participate in field surveys at sea (for up to several weeks at a time); however it would be possible to opt out as some marine staff already do.

Competencies
Specialist and Technical

Degree or equivalent qualification and relevant recent practical work experience that provides the following essential knowledge and experience:
Ability to manage complex and large data sets, create metadata and audit trails, version control, establish processes/rules for changing and archiving them, and understand the principles of licensing. (Essential)
Ability to use and design relational databases, especially to manipulate and query large and complex databases. (Essential)
Ability to use GIS packages, including manipulation, interpretation and mapping of datasets and spatial databases and automation of functions and establishing links to databases. (Essential)
Ability to manipulate data with simple scripts (preferably using the statistical package "R"). (Essential)
Knowledge of the types of data available from environmental surveys, including remote-sensing and in-situ sampling. (Desirable)
Core
Identify Making effective decisions
A range of relevant and credible information sources and recognise the need to collect new data when necessary from internal and external sources. (Essential)
Invite challenge and where appropriate involve others in decision making to help build engagement and present robust recommendations. (Essential)
Recognise patterns and trends in a wide range of evidence/data and draw key conclusions. (Desirable)
Please visit website for a list of more core requirements for the post.
Type of appointment: Permanent
Location: Peterborough
Salary: £26,798

Hours of work
Normal hours of work for the post are 36 hours per week over a 5-day period, Monday to Friday. Flexi time is available

Annual Leave Entitlement
The annual leave allowance is 25 days per year, rising to 30 days per year after 5 years service. There are also 12 days public and privilege leave. Staff appointed on a part time basis will receive this pro rata.

The closing date for this post is Tuesday, 09:00 on 14 July 2015.
The anticipated interview date is Tuesday, 28 July 2015.
Date
June 24, 2015
Technical Advisor: GIS and Ecosystem Monitoring, Serengeti National Park
Job Description
The University of Glasgow and the Tanzania National Parks are seeking a capable individual to facilitate an ecosystem monitoring program for the Serengeti National Park. The primary objective of the position is: (a) to create geo-databases that collate core information about the people, wildlife and landscapes of Serengeti ecosystem that will be used to facilitate the decision making processes by park management, and (b) to provide on-the-job GIS/RS training for staff members from Tanzania National Parks (TANAPA) and Tanzania Wildlife Research Institute (TAWIRI). The successful applicant will develop systems by which several large-scale datasets pertaining to the management of the Serengeti can be summarized through a self-sustaining system for collecting and disseminating spatial data for park management. Additionally, the candidate will facilitate the collection of new datasets and will integrate this diverse information into a comprehensive GIS system established by the park.
The position is funded through an award to the University of Glasgow and hosted by in-country partners; TANAPA, TAWIRI, and the Frankfurt Zoological Society (KfW funded community outreach initiative).
Duties and responsibilities
Develop geo-databases in collaboration with TANAPA's GIS Department that fulfil the objectives of the monitoring and evaluation priorities for the ecosystem. Priority areas are:
Land-use change
Vegetation mapping
Spatial and temporal patterns of precipitation and hydrology
Fire return intervals and seasonal burn scaring
Human population growth
Socio-economic indicators of human livelihood
Livestock densities and trade
Ranger-based monitoring systems (specifically, integrating with SMART)
Animal census data
Invasive plants
Tourism & visitor numbers
Provision core data products that facilitate the adaptive management policies of the park (such as maps and reports summarizing changes in the key ecological attributes and human socio-economic indicators)
Develop and implement a system of routine reporting that aggregates data in a format that can be easily used by managers
Train TANAPA and TAWIRI staff in using GIS/RS especially for reporting
Assist in a large scale GPS collaring program of migratory animals
Mentor and assist on-job training, MSc and PhD students
Qualifications of the ideal candidate
Preferably education to MSc or PhD level, but emphasis will be on professional track-record
Proven capacity in developing GIS and RS geo-databases
A solid understanding of ecological methodology, principles and processes
Experience working with agro-pastoral communities and socio-economic data
Database design and implementation (including queries, metadata, and standards)
Statistical analyses (preferably with quantitative skills in R)
Excellent communication skills particularly between researchers and managers (KiSwahili is a clear bonus)
Capacity to coordinate and interact with a diverse inter-disciplinary team of people
Experience in mentoring and facilitating graduate students
Working conditions and physical requirements
Station will be in the Serengeti National Park (Seronera or Ft Ikoma)
Office space provided by TANAPA GIS Department and Serengeti Wildlife Research Centre (TAWIRI)
Remote conditions with solar power and rain-water collection, but beautiful scenery and animals guaranteed(!)
Return air-fare every year, medical insurance, and 1 month annual leave
Remuneration: USD $18,000 – 30,000 / annum depending on qualifications
The applicant will be assessed after a six month probationary period leading to a two year contract.
Applications
Please provide a short letter of motivation (approximately 500 words), your CV outlining previous work experience, and two referral letters highlighting your professional skills.
Deadline for applications is Friday, 3 July 2015.
Applications should be sent to grant.hopcraft at glasgow.ac.uk
Project coordinators
Dr. Grant Hopcraft (University of Glasgow)
Prof Markus Borner (University of Glasgow)
Dr. Fortunata Msoffe (Tanzania National Parks)
Date
June 24, 2015
A new version of Metadata Maestro is available
MEDIN has announced that SeaZone have made a new version of Metadata Maestro available for download from the MEDIN website.

The new version (2.0.2) has been designed to resolve some minor bugs fixes relating to 'Open Project' and to 'Adding multiple keywords' errors.
Date
June 22, 2015
Environment Agency LIDAR data to be available as Open Data from September 2015
The Environment Agency have an extensive archive of aerial LIDAR data covering nearly three quarters (72%) of England – the data mainly covers flood plains, coastal zones and urban areas. In 2013, the Environment Agency made the data available for free for the first time for non-commercial use to anybody who wanted it. Since that time more than one million km2 of data has been downloaded.
From September 2015 all Environment Agency LIDAR data will become Open Data and everyone will be able to use it for free.
The Environemnt Agency are releasing two LIDAR products under the Open Government Licence and you will be able to access these through Datashare, their Open Data platform:
Tiled LIDAR data
The full tiled dataset consists of historic LIDAR data which has been gathered since 1998. For some areas we have carried out repeat surveys and data is available in a range of resolutions.
Composite LIDAR data
The composite dataset is derived from a combination of our full tiled dataset which has been merged and re-sampled to give the best possible spatial coverage.
By making the LIDAR data open to all, users will be able to access it free of charge, even for commercial use. It is hoped that by removing any cost barriers, the data will improve the quality of flood risk modelling used by businesses and local communities and allow for the development of innovative tools and techniques to further benefit the environment.
Notes:
The Open Data release only includes England, LIDAR data for Wales is owned by Natural Resources Wales.
Point Cloud data will not be included in the September release, but the Environment Agency are working towards releasing Point Cloud data as soon as possible.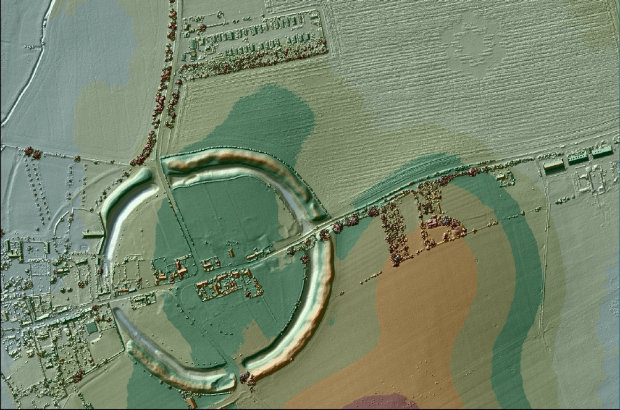 LIDAR coverage of Avebury, Somerset. Copyright © 2015 Environment Agency, All rights reserved.
Date
June 18, 2015
How To... guides produced by InTouch GIS Services Ltd
InTouch GIS Services has produced a number of 'How To..." guides to help users of geographic data through a number of topics, from understanding issues around map scales and the range of mapping that is available, through to obtaining geographic data and the online data providers that are available. The current guides include:
How to Understand Map Scale and Accuracy
How to Obtain Map Data for your project
How to Use and read Map co-ordinates
How to Capture Data and Ensure Quality Standards
Keep an eye open for more "How To.." guides which will be added soon and will cover topics such as "How to use aerial imagery for vegetation mapping", "How to map Census Data" and "How to calculate travel times".
Date
June 18, 2015
Software Engineer/Java Web Developer vacancy at EDINA (University of Edinburgh)
Job Title: Software Engineer
Vacancy Ref: 033451
Closing Date: 13-Jul-2015 (5pm)
Contact: Ingrid Earp, 0131 651 1240, ingrid.earp@ed.ac.uk
Location: Central Edinburgh
Salary: £31,342-£37,394 per annum (pay award pending)
An opportunity has arisen for a Software Engineer/Java Web Developer to work on a unique, state-of-the-art online service delivering maps, geospatial data and geographic information to researchers and students across the UK. EDINA's Digimap (http://digimap.edina.ac.uk) service provides online access to a wide range of topographic and subject-specific mapping and map data, including geology, hydrographic, historical and contemporary Ordnance Survey maps. It has around 50,000 users and delivers over 21 million maps and 20TB of data per year. You'll be tasked with keeping this complex service running, as well as contributing to the evolution and development of this and other online services in a rapidly changing environment.
We want you to have:
A degree in Computer Science or a related discipline;
Strong Java/C++/C# (we use Java but any of these lanuages will be considered);
Good JavaScript;
Object-Oriented design;
Working under own initiative;
Work experience in software development;
Strong communication skills;
Good problem solving skills.
It would be useful if you also had one or more of the following:
Experience of Build tools e.g. GIT and Maven;
Application Frameworks e.g. Spring;
JavaScript Frameworks e.g. AngularJS/Jquery;
UNIX or Linux;
Automated testing e.g. Unit, Integration, Acceptance;
Apache/Tomcat;
Mobile technologies;
Dev Ops;
RDBMs (PostgreSQL, MySQL), SQL, JDBC;
Enthusiasm for technology.
We are looking for an individual who can demonstrate enthusiasm, initiative and rigorous problem solving and who is able to work as part of a dynamic team.
This is a full time open ended post.
Closing date: Monday 13th July 2015 at 5pm.
Benefits of working for the University include:
36 days holiday (+ 4 public holidays);
35 hour working week;
Flexible hours;
Occupational Pension Scheme;
Family Friendly work;
Yearly salary increments;
Exceptional occupational sick pay;
Staff discounts;
Cycle to Work Scheme.
For further information and to apply for the position please see the link below.
Date
June 17, 2015
3rd AGILE PhD School 2015: call for papers
Dates: September 15th – 18th
Location: Champs sur Marne (Paris), France
The AGILE PhD school brings together PhD students from different countries. The purpose of the school is for PhD students to exchange ideas. This will allow them to:
Gain insight about the nature of GI science is, to be exposed to the diversity of fields and common features of our domain
Exchange about the PhD process itself
Develop their own networks
The school offers a platform for PhD students to present their research to date, their future activities and critically to discuss the GI-related methods and the context for their research.
To participate, applicants must submit a short position paper presenting their PhD, its context, research questions, etc. During the school participants will present their work in a few slides to provoke discussions afterwards. The meeting and discussions will be facilitated by senior scientists. The position paper should include
Title of the PhD thesis. If this is not fixed yet then "working title" or "TBC" are fine.
Motivation for the PhD, for example the problem origins or research gaps it addresses.
This should be sent to agilephdschool2015@gmail.com by 20th July 2015. A program committee will select the PhD School participants and will notify them by 27th July 2015.
As well as developing generic research training skills, related to writing and positing research, each participant will have the opportunity to develop written outputs for example a short paper for submission to the AGILE conference in 2016 or a full research paper outline.
All of these seek to develop generic research training skills, related to organizing the work, positioning research and submitting scientific paper to a conference or a peer reviewed journal.
Location:
This year the location of the PhD School will be in France at the Cité Descartes in Champs sur Marne campus (http://www.ensg.eu/?lang=en), 20mn from Paris by public transport. Studios for up to two persons have been pre-booked at Residhome Neuilly Bords de Marne (http://www.residhome.com/uk/hotel-residence-aparthotel-neuillyplaisance-238.html). This provides excellent conditions to work undisturbed and intensively on scientifically challenging themes as well as to enjoy the late afternoon in a nice landscape along the Marne river.
Dates:
Deadline for the submission of papers: 20th July 2015
PhD School: 15th-18th September 2015
Cost:
The workshop will be free including accommodation (possibly involving pairs of students sharing an apartment), refreshments, meals.
Note:
AGILE will support participants financially in form of a subsidy for their travel cost. The amount available per student will depend from the number of participants. Please submit a request for financial support, stating your reasons and need to, when applying to the PhD School.
Futher Information:
Please contact agilephdschool2015@gmail.com for further information about the School or if you have any questions.
AGILE is the The Association of Geographic Information Laboratories for Europe (AGILE) - http://agile-online.org. It runs an annual conference covering all areas of spatial analysis, geocomputation and GIS
Date
June 17, 2015
Scottish Statistics Beta released
The Office of the Chief Statistician within the Scottish Government has been working on a new platform to publish the data behind their official statistics in 5* open data format. The new site will ultimately replace the existing Scottish Neighbourhood Statistics site.
The site allows users to access datasets that are used to support a range publications, as well as being able to view area profiles and create user-defined reports for specific data and areas.
Beta means that this site is still being tested and that some features are still being developed. This version offers data that's currently provided on the Scottish Neighbourhood Statistics website. You might notice that some datasets aren't fully populated or that some of the metadata (like dates) doesn't display correctly. The datasets on this site have not been fully quality assured, and www.sns.gov.uk should still be used to access data for information and decision making.
The temporary home for the beta site is http://statisticsbeta.com - and the team behind the site would appreciate feedback on this early version. They'd like to know how easy it is to access datasets and for any other comments on the functionality and general feel of the site. They have also published a short blog post about the developments that have still to come throughout June. These improvements include a new grid layout on dataset pages and a postcode and area name search for geographies, as well as improving the layout and visualisations for our area profiles.
You can comment directly on the site, or by email.
The team behind the new site hope to launch it fully in July 2015, at which point it will move to a new, permanent, URL.
Date
June 17, 2015